How much does a new oil tank cost to install?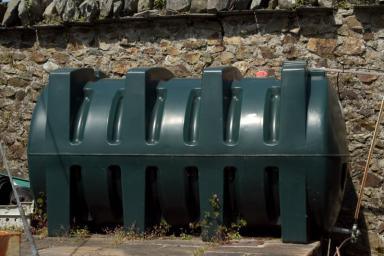 If an OFTEC engineer advises replacement of your oil tank it is highly recommended that you do so. Whilst Oftec cannot force you to replace it, your insurer will likely require to you carry out the engineer's recommendation under the terms of their insurance policy. The purpose of this guide is to outline replacement costs for a number of common scenarios. If you need more guidance on the building regulations that apply to replacement oil tanks, use our Guide to oil tank regulations. If you require help with insurance requirements try our Guide to domestic oil spills and insurance.
Tank prices

Integrally bunded oil tanks cost between £1,150 and £2,000 depending on the size of the tank. A 1,200 litre slimline model (a popular choice) is around £1,450.
Installation prices

Fitted costs start at around £2,200 for the smaller tanks (this includes the tank and a new base), and go up to £2,800. Other costs include: trenching a new oil line - £500 – and draining the old tank - £350.
Fitted Tank Prices
Almost all new oil tanks are integrally bunded plastic tanks. They come in many shapes and sizes: tall and narrow to fit into small spaces or low and wide to conceal behind foliage. The table below sets out common tank installations. The first table gives a range of popular tank sizes and their prices with a fully fitted price on the next column. The fully fitted prices include the tank and a new hard stand (which is required in the vast majority of cases).
The second table shows costs for laying a new oil line and removing waste oil from the bottom of the oil tank. Some specialist tank installation companies will do this, otherwise you can arrange for removal with your fuel supplier at around the price given. All prices are given as a guide. NB if you have the tank replaced when you replace your boiler there are usually some economies as the works can be carried out alongside by the same company.
Other installation costs
Tank size
Dimensions
Cost (incl VAT)
Tank cost + labour charges, including the cost of a new base (incl VAT)
650 litre Harlequin Slimline bunded tank
Length 1715mm
Width 670mm
Height 1355mm
£1,130
£2,200
1000 litre Kingspan Titan Slimline bunded tank
Length 1920mm
Width 600mm
Height 1580mm
£1,440
£2,500
1200 litre Atlas Low profile bunded tank
Length 2000mm
Width 1400mm
Height 1000mm
£1,360
£2,400
1200 litre Kingspan Titan Slimline bunded tank
Length 2000mm
Width 900mm
Height 1495mm
£1,450
£2,500
1300 litre Kingspan Titan Bunded tank
Length 1935mm
Width 1265mm
Height 1310mm
£1,575
£2,600
1550 litre Deso Slimline bunded tank
Length 2000mm
Width 950mm
Height 1500mm
£1,650
£2,700
2000 litre Kingspan Titan bunded tank
Length 2500mm
Width 800mm
Height 1650mm
£1,775
£2,800
Fitted Tank Prices
| Other installation costs | Incl VAT |
| --- | --- |
| Cost of new oil line + new trench - assuming 10m of oil line | £500 |
| Remove of old oil from tank – can be undertaken by fuel supply company | £300 |
Monthly payment plans for a new oil tank
A number of companies offers 0% finance options to spread the cost of a new tank installation over 12 months. Including: tankservices.co.uk; certasenergy.co.uk
Overview of tank requirements
We have provided more detail on tank regulations, insurance requirements and oils spills in our related content (click the links). Here we provide a brief overview of considerations for replacing your tank:
Your duties:
Unlike a gas boiler, an Oftec engineer cannot cut off your heating system due to imminent failure of the tank.
However you are obliged to prevent a hazardous substance from polluting the environment.
You will be responsible for the clean-up as a result of an oil spill, which can stretch into hundreds of thousands of pounds.
Most oil users take out Oil Spill insurance as a standalone policy or via their home insurance
Most insurers require oil users to have an annual inspection and carry any and all recommendations made within 60 days.
Tank regulations
Building control regulations set out specific requirements for the type and location of tank
Most modern plastic tanks are integrally bunded, which removes many onerous requirements placed upon single skin tanks
The location of the tank must be 760mm from a boundary and 1.8m away from a non-fire rated building (such as a shed) and from openings in a fire rated property (house or outbuilding).
The tank must be positioned on a hard stand of at least 50mm thick (slabs) and extend 300mm around the footprint of the tank.
Oil supply line
Pipes can be run over or underground.
Modern pipes are made of a plastic-coated soft copper that can be bent to avoid joins
The pipe should take the most direct route to the boiler
Any over-ground pipe must be supported against a permanent structure
Underground pipework must be in a trench 450mm deep on a bed of compacted sand and overlaid with sand before backfilling
The pipe must be sleeved as it enters the building and a fire valve fitted before entry
Does my tank installer need to be OFTEC registered?
If you use an OFTEC registered engineer then your installation will be signed off by that engineer and building control notified. If you do not use an Oftec engineer (or similar competent persons scheme member) then you will have to pay for local authority building control to inspect and sign off the works, although this is getting harder and harder as local authorities do not always have the requisite specialist knowledge.
The benefits of using an OFTEC registered engineer is that they will have undergone training in oil tanks and be an experienced installer.