Heating design services for larger domestic projects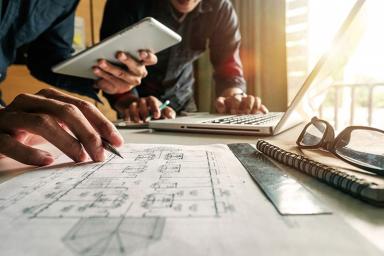 Does any of the following apply to you?
A large home
5-6 bedrooms or more
Probably off-grid
You are extending or renovating in some way
With an old oil or gas boiler
Considering a renewable or hybrid heating system
Or a larger new build with low carbon footprint
If so, you are likely to be giving some thought to your heating system. Do you need to replace your boiler, do you want to incorporate renewable energies, what is the best way to control your heating system, how can you reduce your running costs, how do you get enough hot water to supply three or more bathrooms? You are a perfect fit for our heating design services.
NB if you need help with a standard gas and oil boiler installation go to our How we work page.
What do we mean by heating design services?
On commercial projects a specialist engineering consultant will produce a design of the plantroom taking into consideration a range of technologies and requirements. This level of detail is usually unnecessary for domestic properties, even quite large properties, and expensive.
So where do homeowners turn who have complex heating requirements? Larger homes fall through a knowledge and skills gap in terms of:
Getting impartial advice on different heating technologies
Getting an expert specification
Finding a multi-skilled installer
Energy assessors will be able to help you with your heat loss and the size of your heat requirements. Local heating installers can advise on what they fit, but not necessary on alternative technologies or set ups. How do you join the two together and get an impartial view of all technologies and their suitability for your home?
We are here to fill that gap.
Common mistakes on bigger projects
The biggest mistake is oversizing the boiler and over-specifying the plant room. This adds £1,000s to the installation cost and reduces efficiency. Oversizing is usually done out of a nervousness of getting it wrong by installers and a fear of getting called back if the home is not warm. Over specification also occurs out of a nervousness, but also an ignorance of good design and sometime because it looks good and sounds good.
Mistakes are costly and for the long term
Most of our customers in your situation desperately wanted independent, heating advice. Without our services they would have gone ahead with far less efficient and often more expensive heating systems. Our design services help you secure the best solution for your home and budget and get it right first time.
Spend a little to save £1,000s, with our heating design services
With our extensive experience in heating systems, renewables technologies, fossil fuel boilers, heating controls systems and hot water requirements, we can provide impartial advice on all your options.
We carry out a desktop heat loss survey on your home using professional commercial software to accurately determine your heat requirements. Oversized boilers and systems are more expensive, getting the plant sizes right alone will save you £1,000s.
Via our network of Elite Installers, we can connect you with the most knowledgeable domestic heating engineers in the UK who can take your options onto quote and full specification stage.
We work to your requirements. If budget is tight there is lots we can do to make your oil boiler much more efficient and future proof your heating system to integrate new technologies in the years to come.
If you are interested in heat pumps, ground source, hybrid heating systems and hydrogen fuel cells we can help you find suitable options and direct you to competent installers.
One-off cost £300
For more contact us on 01622 291561 or fill out our contact form and we'll call you back.