How do we get factory stated boiler efficiencies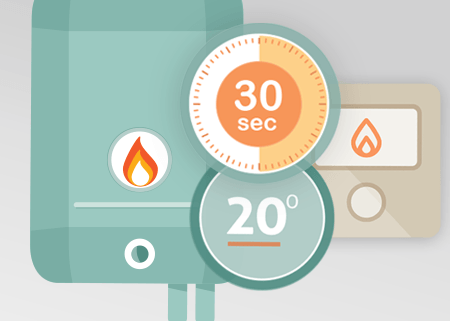 Author:
Press Release | Jan 11th, 2020
MORE than seven-out-of-10 homes are wasting thousands of pounds because their boilers are too BIG and their thermostats are incompatible, according to industry experts at The Heating Hub.
In many cases, boilers are fitted that are a staggering THREE times too big for the heating systems they serve, with thermostats and smart controls that cannot achieve anything like factory test results.
Jo Alsop, founder of consumer website The Heating Hub, warns that customers keen to save money and do their bit for the environment are too often unaware their heating systems are nowhere near as efficient as they might think.
She explained: "Oversized boilers are more expensive to buy, more expensive to run and often need replacing sooner. In short they represent very poor value for consumers, yet they are present in the vast majority of UK homes."
Jo argues that whilst modern boilers are capable of 90% or more efficiencies, the unspoken truth is that this due to oversizing and incompatible controls this is rarely achieved.
However, by following four steps, most homes could achieve far better efficiencies without having to replace their existing heating systems.
How has this happened?
Jo has been researching these trends and works with a number of industry experts to get good advice out to consumers and engineers.
They have found that whilst 6-8kW can heat most UK homes on a very cold day, 18-30kW boilers are the norm. They have also found that heating control knowledge is patchy at best.
She explains "We know that boiler oversizing leads to wasteful dumps of heat into the radiators and increased wear and tear as boilers click and on off excessively. We also know that most heating controls, including many smart controls, do not maximize efficiencies."
"The net result is higher fuel bills and shorter lifespans, yet we continue to upsize our boilers and fit incompatible controls."
Heat loss expert Rob Berridge campaigns for the availability of smaller boilers. He believes the main problem is that accurate boiler sizing is no longer a priority for the heating industry.
"Before recommending any boiler a heating engineer should carry out a heat loss survey, but due to time pressures and now online boiler quotes without a home visit this is rarely done properly, if at all."
"Without this information, consumers and installers do not get an accurate understanding of the heat requirements and often opt for a bigger boiler, just in case".
Rob adds, "The main problem for consumers is that bigger boilers still work. It is the inefficiencies and shortened lifespans that go unseen."
What could the industry do to assist consumers more?
Rob argues the industry does little to correct these assumptions. "Manufacturers increasingly like to produce 'one-size-fits-all' models, but this makes the boilers huge. It would give consumers and installers confidence to opt for a small boiler if manufacturers provided them as standard.
Jo says clearer labelling would also go a long way to assisting consumers and installers. "As a nation of combi boiler owners we are so used to seeing big boiler sizes of 28kW or 36kW that 6-8kW seems ridiculously small. These big outputs are in fact for hot water, but this is not made clear."
All boilers can in fact operate within a heating 'range', for example between 5kW - 21kW or 3kW - 30kW, that needs to be reduced down by the engineer on installation, e.g. to 6-8kW. However this is not always done or done low enough."
She adds "it would be helpful if boiler labels instead showed the heating range and guided us on reducing the output according to property size. Manufacturers could also remove the confusion between heating and hot water sizes if hot water performance was shown in 'litres per minute'."
The heating controls market is messy and confusing
Jo argues that much better consumer and installer guidance is also needed for heating controls.
"The confusion around boiler sizing is nothing compared to the thermostat industry. Few of us know that our high efficiency boilers are only highly efficient if they are fitted with a control that can reduce the amount of gas used as outside temperatures change. This is known as a 'compensation' control"
She says "We can all be forgiven for thinking that smart controls are smart in this way, but if they but if they cannot speak the same language as the boiler they are little more efficient than a standard programmable room thermostat."
"As a result, most of us have controls that waste gas and increase wear and tear by switching the boiler on and off at its maximum output, which is usually very high due to routine boiler oversizing. Change here needs to come from stronger legislation."
We can achieve better efficiencies, now
Jo says the good news is that by following a few simple steps UK homes pick their way through the confusion and save thousands of pounds over the lifetime of their boilers:
For new boilers installations, pick a boiler with a range that goes down really low. Some boilers can operate below 2kW making them efficient all year round.
For new and existing boilers, get a Gas Safe registered engineer to reduce the output of the boiler down to meet the highest demand, e.g. 6-8kW. Installers need to accurately calculate the heat loss of the property to get this right.
Next pair the boiler with a 'compensation' thermostat. To guarantee compatibility, the best option is to go with the boiler manufacturers own compensation control or pick a boiler and control that both use the 'Opentherm' language".
Finally fit 'flow-setting' thermostatic radiator valves (TRVs). These cost the same as good quality standard TRVs but help the boiler reduce its output quickly as rooms switch off. These alone can save upto 15% on heating bills when paired with a modern high efficiency boiler.
Share Blog:
Filter by Tag:
Filter By Date: